Ecogames Book and Symposium 2021
The Symposium
Organizers: Prof. dr. Joost Raessens, Laura op de Beke MA, Prof. dr. Gerald Farca, Dr. Stefan Werning

On 12-13 October, we organized the Ecogames 2021 symposium in the Sweelinckzaal, Drift 21, in Utrecht; due to the ongoing Covid-related restrictions, the symposium was also live-streamed via StarLeaf.
---
The symposium is tied to our planned Ecogames anthology (see below), which is scheduled for publication at AUP in 2022, as all authors presented and discussed their chapters-in-progress. The symposium also coincided with the annual Pathways to Sustainability conference held in Utrecht on 14 October 2021.
The Program
Tuesday, 12th October
Time
Speaker
Topic
10.00-11.00
Coffee and reception
11.00-11.30
Opening conference & Intro section: Stefan Werning
Critical Metagaming
11.30-12.00
Chloe Germaine Buckley and Paul Wake
Play and the Environment –
Games Imagining the Future
12.00-12.30
Stefan Werning
Remediating Landscape Photography and Nature Documentary Filmmaking as Epistemic Eco-Practices in Digital Games
12.30-13.30
LUNCH
13.30-14.00
Kyle Bohunicky
Eco-Lewdology: Examining the Ethics of Sexecology and Ecosexuality within Video Games
14.00-14.15
Roundtable Critical Metagaming
14.15-14.30
PAUSE
14.30-14.45
Intro section: Gerald Farca
Future Worlds
14.45-15.15
Lauren Woolbright
Dark Ludology in Outer Wilds
15.15-15.45
Gerald Farca
Ecology and the Post-Apocalypse: Regenerative Play in the Metro series
15.45-16.00
PAUSE
16.00-16.30
Victor Navarro-Remesal and Mateo Terrasa-Torres
Stop and smell the (apocalyptic) roses: Hypoludicity, catalysis, and slowness in eco-dystopian AAA games
16.30-17.00
Pawel Frelik
Green (?) New Worlds: Ecology and Energy in Planetary Colonization Games
17.00-17.30
PAUSE
17.30-18.00
Jordan Youngblood
Burying the Strange Strangers: Queer Dark Ecology and the Landscape of Kentucky Route Zero
18.00-18.30
Colin Milburn
Mutate or Die. Neo-Lamarckian Ecogames and the Responsibilities of Modulation
18.30-19.00
Rainforest Scully Blaker
Re-Framing the Backlog: Radical Slowness and Patient Gaming
19:00 – late
Dinner
Wednesday, 13th October
| Time | Speaker | Topic |
| --- | --- | --- |
| Time | Name | |
| 10.15-11.15 | Coffee and Reception | |
| 11.15-11.30 | Intro section: Laura op de Beke | Nonhuman Epistemologies |
| 11.30-12.00 | Kara Stone | Transforming into the Environment: Imagining the Multi-Species Perspective |
| 12.00-12.30 | Laura op de Beke | Nonhuman and Inhuman Temporalities in Petro-Capitalism |
| 12.30-13.00 | Paolo Ruffino | Inhuman(e) Games and All-too-human anxieties |
| 13.00-14.00 | LUNCH | |
| 14.00-14.30 | Merlin Seller | 'Hiding (in) the Tall Grass: Rethinking Background Assets in Videogame Plantscapes' |
| 14.30-15.00 | Melissa Bianchi | A Field Guide to Monsters: Discursive Practices of Wildlife Watching in Video Games |
| 15.00-15.15 | Roundtable: Nonhuman Epistemologies | |
| 15.15-15.45 | PAUSE | |
| 15.45-16.00 | Intro Section: Joost Raessens | Games for change |
| 16.00-16.30 | Hajo Backe | Différance in Analyzing Ludic Ecologies: Minecraft and the Ecocriticism of Survival Games |
| 16.30-17.00 | Joost Vervoort, Carien Moossdorff and Kyle Thompson | Games and Sustainability Transformations |
| 17.00-17.30 | PAUSE | |
| 17.30-18.00 | Péter Makai | Do You Want to Set the World on Fire? TransmediatingClimate Science into Playful Agency in Earth System Games |
| 18.00-18.30 | Joost Raessens | VR for Sustainability |
| 18.30-19.00 | Alenda Chang | Change for Games |
| 19:00 – late | Dinner | |
| | | |
---
The Book
With the climate crisis and its short-term repercussions becoming more and more 'tangible,' videogames are increasingly participating in the production, circulation, and questioning of environmental assumptions. Whether they are providing new spaces to practice alternative ways of living, or reproducing ecomodernist fantasies, videogames as well as player cultures are increasingly tuned in to the most pressing environmental concerns. The planned edited volume builds on the growing body of scholarship that explores this phenomenon and aims to situate it within the field of the environmental humanities and, more specifically, green media studies, moving beyond its initial focus on environmental cinema, documentaries, and television.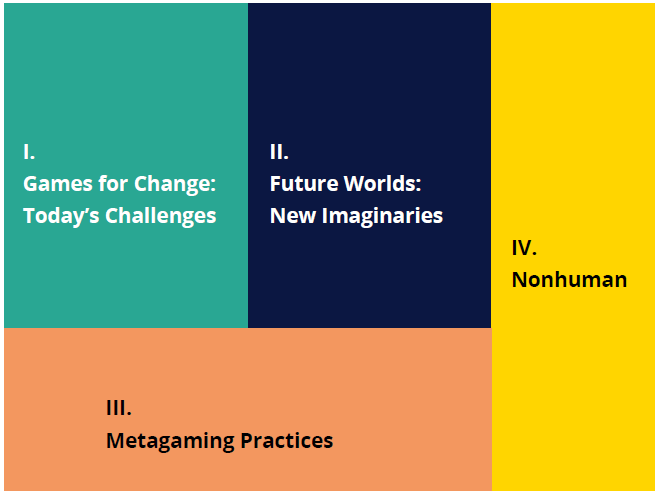 ---
Our mission is to demonstrate the variety of ways in which environmental questions, hopes, and concerns surface in videogames and player cultures, the different roles they can play in fomenting ecological awareness and activism, as well as the ethical, political, and aesthetic pitfalls that continue to challenge such examples of ludic engagement. To cater to this diversity, as well as to the diversity in the range of approaches and viewpoints apparent in environmental videogame scholarship, the book will comprise four sections. We consider these four sections to cover the scope of the entire field, from human to nonhuman dimensions, questions of gaming and metagaming, to contemporary challenges and future imaginaries.